Mastering Your Listing Presentation: Pro Tips & Strategies
Posted by Will Smith on Wednesday, September 20, 2023 at 8:53:20 AM
By Will Smith / September 20, 2023
Comment
An essential tool for a real estate agent to use while showing a client's house is a real estate listing presentation. It excites sellers, demonstrates experience, and raises closing rates. Statistics on the local market, a rundown of the entire procedure, and an emphasis on the needs of the seller should all be included in a great presentation. For leads to be converted and a firm to be successful, presenting skills must be mastered. By eschewing conventional templates and coming up with a personalised plan that highlights your particular abilities and ideals, you can make a persuasive presentation and stand out from the crowd. Here is the full guide for a killer presentation.
Showcase Your Expertise
It's critical to demonstrate your knowledge and experience in a listing presentation, get to know your customer, and then concentrate on their property. Your years of experience, sales history, and unique selling proposition should be highlighted as they pertain to your experience. Mention the greatest brokerage in the region, a responsive network of experts, and distinctive analytics to position your brokerage as the best choice. Showcase your knowledge to establish a seamless and skilled procedure.
Start the presentation with a brief overview of your background, highlighting the advantages and capabilities of your brokerage. To create a pleasant atmosphere for the remainder of the presentation, keep the introduction brief and sweet. Include data and facts on your past sales, comparable homes, and closing prices. Any honours, credentials, or titles you hold that are pertinent to the deal should be highlighted.
Describe the strength of your brokerage, emphasising the advantages of working with a reliable staff and in-depth local expertise. Both big and little brokerages have a value proposition, with the bigger companies sometimes emphasising statistics like sales over the last year and the average price of a house sold.
Understand Your Client
Do an extensive study on a property before advertising it, taking into account its distinct history, current building, and future upgrades. When a customer calls, enquire about the property, the timetable for selling, the target selling price, and the listing agent that is preferred.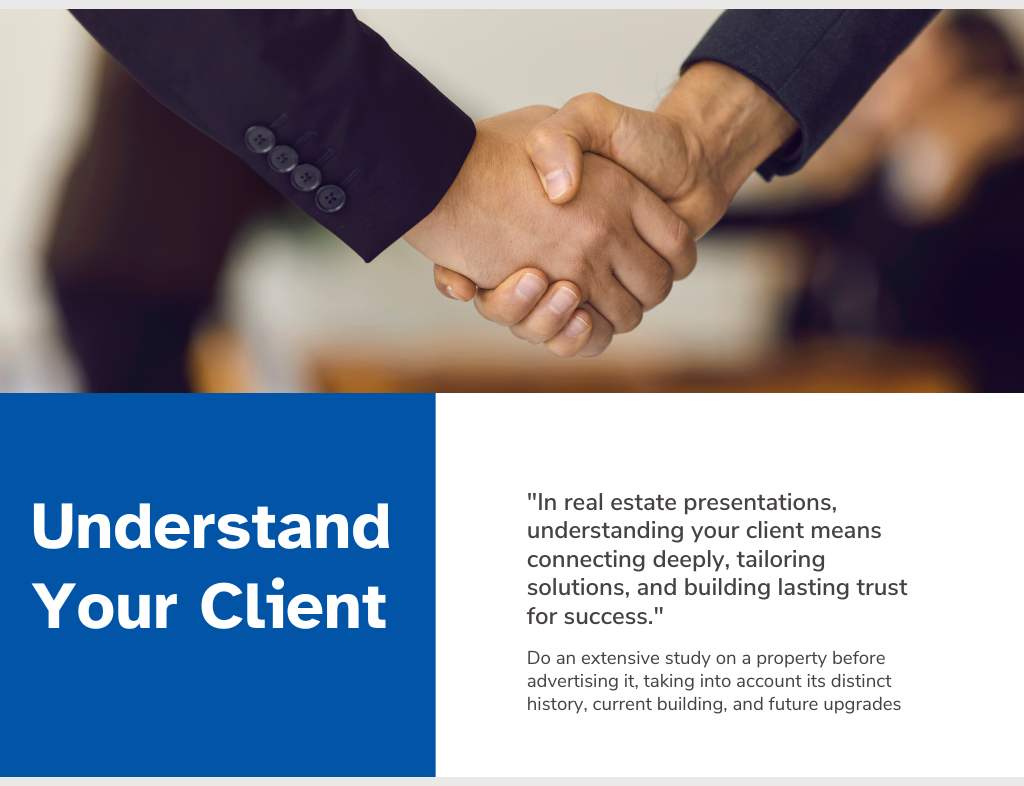 Consider the selling timeframe and the seller lead's circumstances as well as their past. Make sure the listing presentation is attractive and appeals to potential buyers by incorporating comments on their preferences and requirements.
Present Market Data
Understanding the possibilities in your local modular home market and establishing realistic expectations are essential for giving a great listing presentation. Talk about local inventories, listing and selling prices, average days on market, and typical neighbourhood improvements. Make reasonable generalisations available to sellers so they can comprehend the market data. Describe the neighborhood's or area's local market data, including seasonal trends, sales velocity, and median price ranges. To make the data easier to obtain and comprehend, use charts or graphs. Start with a broad overview and then delve deeper into individual data points pertinent to the homeowner's circumstance to adjust your approach to your audience's degree of comprehension. Charts and graphs are visual tools that may be used to highlight trends and patterns.
Explain the Sales Process
Pre-sale activities, marketing, the active listing phase, accepting offers, and the closing phase are just a few of the stages that make up the house selling process. It's important to inform clients of these stages and take into account any prior experience they may have had selling houses. Spend more time addressing any worries for first-time sellers. For seasoned sellers, progress more swiftly through this segment. The pre-sale activities, marketing schedule, listing period, acceptance of an offer, closing, and collaboration with the buyer should all be covered in the listing presentation. It's crucial to take the client's prior experiences into account and adjust the presentation accordingly.
Prepare the Home
Set expectations and concentrate on the seller's home while preparing a property for sale. Stress the importance of having a lovely, well-kept house with regular professional cleanings and depersonalization. To increase value, take care of things like depersonalization, cleaning, repairs, and improvements. As an agent, provide recommendations for reputable cleaners and contractors, but make sure these jobs are finished in time to market, list, and show the home to prospective purchasers. Additionally, the agent need to offer suggestions for maximising the worth of the home.
Outline Pricing Strategy
Determining the right price for a successful sale should be the main emphasis of the real estate listing presentation. Discuss the value-influencing aspects, such as improvements, square footage, and pricing trends, and emphasise the need of starting with an exact selling price.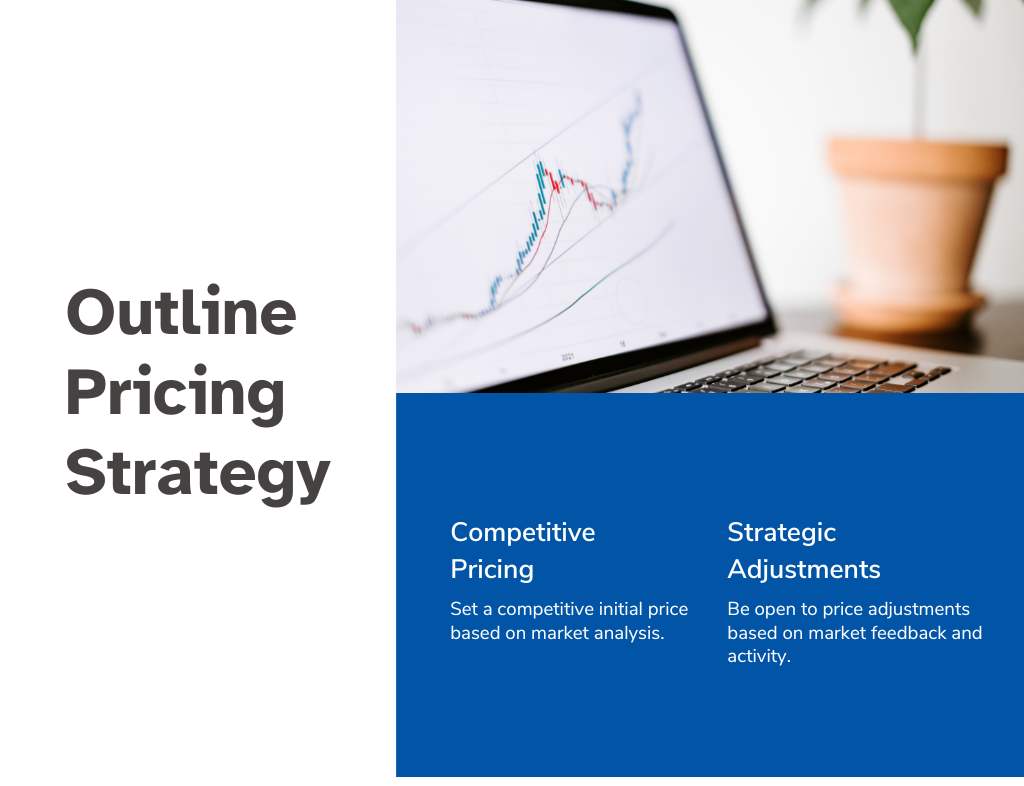 Describe how these elements affect the proposed price and how they may affect the value of the seller's property. Agents may develop a lasting rapport with their clients by being open and understanding with them.
Go Through Marketing Plan
Determining the right price for a successful sale should be the main emphasis of the real estate listing presentation. Discuss the value-influencing aspects, such as improvements, square footage, and pricing trends, and emphasise the need of starting with an exact selling price. Describe how these elements affect the proposed price and how they may affect the value of the seller's property. Agents may develop a lasting rapport with their clients by being open and understanding with them.
Utilising both offline and online advertising channels, such as the Local MLS, websites, landing pages, and online platforms, is part of direct marketing. Given that 90% of people use the internet to seek for a house, it is crucial to stress the value of your online presence and the opportunity for leads to get in touch with you directly. You may maximise your marketing efforts and draw in more customers by concentrating on these marketing methods.
Showings & Open Houses
When you are aiding a client in the sale of their home, it is crucial to establish clear expectations with the sellers about open houses and showings. The services offered, prospective weekends, and if the client would dwell at the home during the showing are all covered in this discussion. Additionally, it's critical to protect the seller's security and privacy by avoiding their presence during open houses and showings. The optimal experience for the customer may be made possible by the use of solutions like Showing Time.
Offers & Negotiations
Presenting each offer, going through the specifics, and acting in the seller's best interests are all part of the offer and negotiation process. Setting realistic expectations and being upfront with the seller are essential as a licenced real estate agent. There may be several offers, and the agent must evaluate each one, consider all possible outcomes, and suggest possible answers. Communication is crucial since the goal is to secure the best terms and pricing for the client.
Closing
Give a thorough rundown of all the steps involved in closing, such as appraisal, inspection, financing, contingents, walk-through, and closing. Keep lines of communication open, describe the closing fees, and help with any last-minute queries. A successful conclusion to the presentation will ensure a smooth sales process. Congratulate clients on a deal that was a success and thank them for relying on your assistance.
Additional Tips for Success
Focusing on customer demands, being adaptable, showing additional care, practising frequently, and being genuine are key components of the greatest real estate listing presentation. Being compassionate, strong, enthusiastic, and ready with questions is essential. To increase leads and grow your business, treat customers like VIPs. Build trust by defining your distinctive value offer, following market trends, and using emotional appeal. Dress appropriately, be aware of your posture and body language, and respond positively to any concerns. Even if things don't work out as you had hoped, be strong and provide your close. To perform better and make a lasting impact on potential clients, consider each presentation you give.
Conclusion
The listing presentation seeks to improve closing rates by producing polished presentations. It streamlines the design procedure so that designers may concentrate on their clients. The platform may support network building and company strategy development. These pointers can help agents approach listing presentations with assurance, make an impact on customers that will last, and set clients up for success.
FAQs
What specific information should I research on the property before seeing the client?
Make sure you are informed on the property before you enter that meeting. Investigate its background, peculiarities, any new improvements, and what makes it unique. Additionally, be sure to gather information on recent neighbourhood sales and get a sense of how the real estate market is operating. Your ability to modify your pitch to satisfy the needs of the consumer increases as you become more familiar with the property.
How much time do I need to talk throughout my presentation?
Be brief and to the point. Avoid droning on and losing their attention. A strong listing presentation ought to last between 20 and 30 minutes, giving enough of time for queries and discussion. Keep in mind that when it comes to having an effect, less is frequently more.
What's Up With This Marketing Strategy?
The key ingredient is your marketing strategy. Describe how you plan to expose that property to potential purchasers. Discuss anything from standout images to virtual tours, open homes, and your social media strategy. Demonstrate to them how your marketing expertise will make their home stand out and draw in serious purchasers.
How Should I Approach the Money Talk? What if they query me regarding my commission?
The commission query, ah. Be forthright and certain when talking about it. Make sure they get the value you bring to the table and explicitly explain your cost structure to them. Your commission is an investment in selling that property rather than merely a cost. Prepare to answer any questions they may have and reassure them of the importance of your knowledge.