What's Not a Physical Security Measure for Your Home?
Posted by Will Smith on Wednesday, June 21, 2023 at 3:53:44 AM
By Will Smith / June 21, 2023
Comment
I know you're frustrated in finding the best approaches to protect your home against potential threats and you're also curious to know what's not a security measure for your home.
If my perceptions align with your speculations then I'd like to extend my heartfelt congratulations to you for reaching an intended destination.
The reason is that after reading this article, you'll effortlessly uncover non-security from security measures for your home.
What's a Security Measure for a Home?
Before discussing what's not a physical security measure for your home, it's mandatory to know what's a security measure because sometimes appearance can be deceiving.
"Security measure is a precaution, strategy, or a proactive step to enhance the protection of a home by preventing it from unauthorized access".
What's Physical Security for Home?
Physical security refers to tangible and visible measures in which physical barriers and detergents are operationalized to secure the home from unauthorized access.
In physical security, crucial elements of deterrence, delay, detection, and response are implemented against terrorist threats and criminal activities to protect the home.
The basic purpose of these measures is the identification of the physical vulnerabilities of terrorists to support an antiterrorism defensive plan.
So by these measures, we can protect our homes from physical actions such as vandalism, theft, and trespassing.
Concept of Non-Physical Security Measures
Non-physical security measures are intangible and procedural measures such as policies and guidelines that prevent houses from mitigating risks.
In short, homeowners implement technology for remote monitoring and receive real-time alerts during the occasion of any threat. You should check these measures before buying a new home.
Examples of Physical and Non-physical Security Measures for Home
| | |
| --- | --- |
| Physical Security Measures | Non-Physical Security Measures |
| Using fences on walls and gates | Participation in the neighbourhood watch program |
| Utilizing high-quality locks for windows and doors to restrict unauthorized entry | Implementing cybersecurity measures for protection against online threats |
| Using motion sensor lights | Acknowledgement and perception of security threats |
| To monitor and record activities by security cameras | Utilizing automation technology to monitor door locks and alarms remotely |
| Using laminated glass, anti-intrusion bars, and crash-resistant materials in windows | Utilizing home security apps for remote monitoring of security cameras |
| Making alarm system | Considering insurance policies for financial security |
Key Considerations About What's Not a Physical Security Measure for Your Home?
The question "What's not a physical security measure for your home" is part of the Antiterrorism Training 1, and there are 5 reasonable answers to this query.
Hiding a key outside to ensure family members can get in if they lose their keys.
Changing locks to ensure key control.
Confirming that a cleaning company is reliable and licensed.
Monitoring Internet acquaintances of all family members.
Having good relations with neighbours and looking out for each other.
In the above 4 points carrying out security audits for the cleaning companies and ensuring key protection are straightforward measures, while other points recommend further recommendations.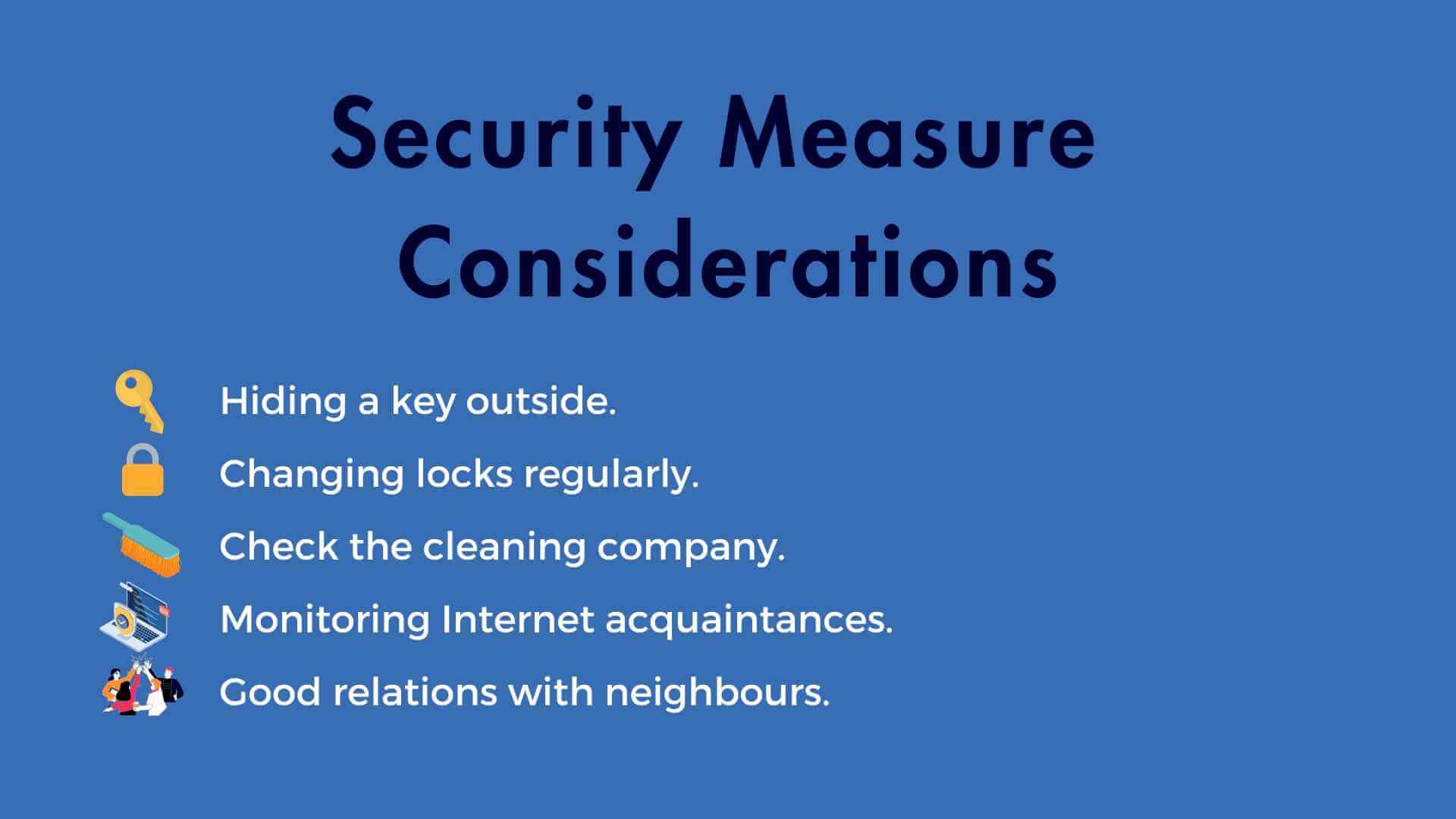 Hiding the key outside seems the correct choice in this scenario as it offers means for family members to enter the home if they misplace their key.
On the other hand, hiding a key means we offer unauthorized access to someone because anyone can easily identify it by employing key-hiding products such as fake rocks.
Personal Protection According to Antiterrorism Level Training 1
Antiterrorism Level 1 training, developed by the collaboration of the Joint Staff Component (JSC), the Office of the Secretary of Defense (OSD) and various military services encourages raising awareness about terrorism among individuals and educating them.
It covers a wide array of topics related to terrorism and enables young guys to use personal protection measures in various situations.
It educates the young dudes about potential threats, enables them to identify vulnerable populations, and makes them aware of common strategies that terrorist organizations use.
Now individuals can recognize potential terrorist threats and take appropriate actions against them for their protection.
This training has proved to be very fruitful in military and defence sections, as soldiers are now well-informed about the nature of terrorism through it.
Conclusions
After reading this article, I hope you can easily understand what's not a security measure for your home and can identify necessary physical measures to protect your home from unauthorized access.
I've clarified that hiding a key outside your home is not a security measure, because it means that you're unintentionally giving unauthorized access to anyone in your home.
Moreover, you can strengthen your home security by developing good relations with your neighbours and deploying remote control technologies. Also, be alert when you come across unfamiliar individuals near your home, ensuring they do not have malicious intentions.
FAQs
Is hiding a key outside a physical security measure for the home?
No, hiding a key outside is not a physical security measure because anyone can get access to your home illegally.
What're the possible ways to protect your home remotely?
You can protect your home remotely by connecting home security cameras with smartphone apps provided by security camera manufacturers. Some apps that handle security cameras are also available on Play Store.
Is it necessary to update security measures for your home?
To ensure ongoing effectiveness for your home security, updating security cameras and connected devices is mandatory. This process will allow you to take advantage of new features of security patches to stay protected against unknown vulnerabilities