Top 5 Suburbs & Greenville NC Real Estate
Posted by Will Smith on Thursday, August 10, 2023 at 5:11:26 AM
By Will Smith / August 10, 2023
Comment
Discover the allure of Greenville, NC, and its top five suburbs, where southern charm meets modern living. This guide delves into the vibrant real estate market, offering a range of housing options to cater to every taste. Explore thriving communities, tranquil countryside retreats, and the perfect blend of historic and contemporary homes, making Greenville, NC, an ideal destination for quality living and promising real estate opportunities.
Greenville, North Carolina, is a testament to the vibrant and inviting southern lifestyle. Nestled among this city's landscapes, you will find a myriad of suburbs, each offering its unique blend of charm and appeal. This guide presents an in-depth look into the top 5 suburbs of Greenville, perfect for those considering a move or seeking new real estate opportunities.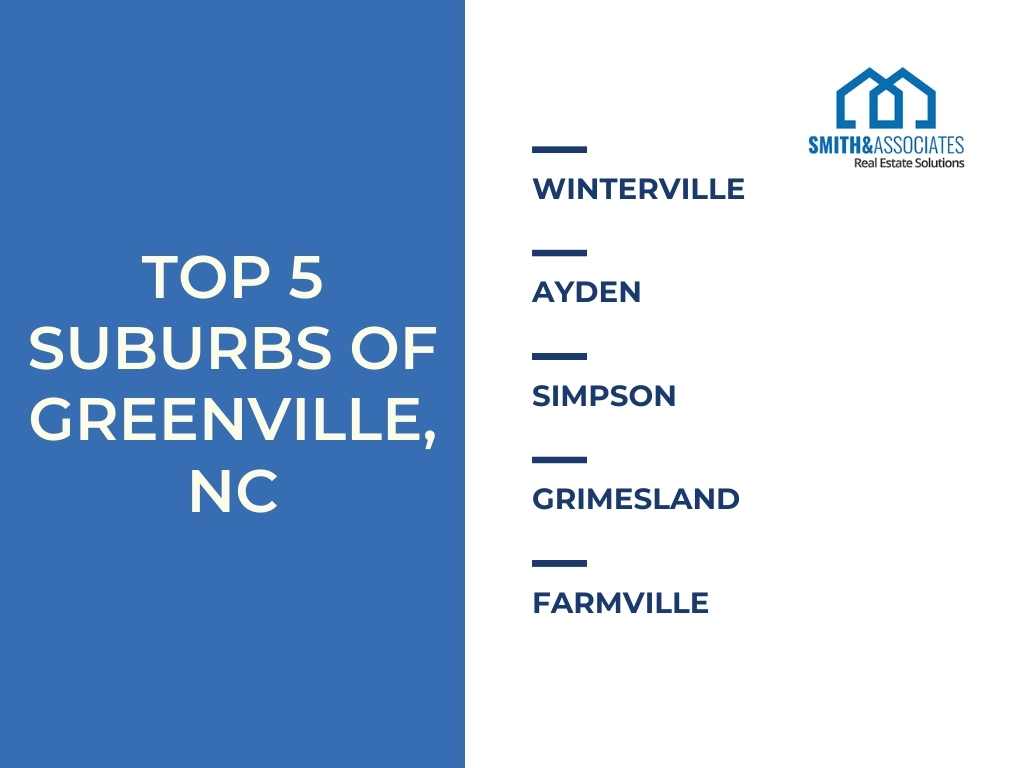 1. Winterville: A Hub of Family-Friendly Living
Located just south of Greenville, Winterville epitomizes a family-friendly community. Its carefully planned neighborhoods offer a safe and welcoming environment for growing families and retirees.
Features:
Excellent Schools: The local schools in Winterville consistently receive high ratings, making it a preferred suburb for families prioritizing quality education.
Community Events: Winterville's annual Watermelon Festival is a highlight of the local calendar, promoting community bonding and providing entertainment for all ages.
2. Ayden: Embracing Historic Charm
Ayden is a suburb that seamlessly blends history and modernity. The town's architecture pays homage to its rich past while its amenities align with contemporary needs.
Features:
Historical Landmarks: Several structures and sites in Ayden hold significant historical value, adding character to this quaint town.
Community Spirit: The annual Collard Festival celebrates Ayden's culture and heritage, fostering a strong sense of community.
3. Simpson: The Allure of Spacious Living
Simpson is ideal for those seeking a peaceful suburban retreat without straying too far from city conveniences. It's a perfect blend of rural and urban lifestyles.
Features:
Spacious Homes: Simpson is known for its spacious homes and larger yards, providing residents with privacy and room to breathe.
Proximity to Greenville: Despite its tranquil feel, Simpson is just a short drive from Greenville's vibrant city centre.
4. Grimesland: Serenity of the Countryside
Embrace the tranquility of rural living in Grimesland. This suburb offers an idyllic escape from the city bustle while still being conveniently close to Greenville's amenities.
Features:
Countryside Atmosphere: Grimesland offers a unique countryside living experience with open fields, scenic landscapes, and a relaxed pace of life.
Variety of Homes: Grimesland's real estate portfolio includes a mix of traditional and contemporary homes, catering to different tastes and preferences.
5. Farmville: The Best of Both Worlds
Farmville is a dynamic suburb where the old meets the new. This suburb provides a diverse real estate landscape, from historic houses to new constructions.
Features:
Historic and Modern Homes: Farmville's housing market offers a unique mix of historic homes that reflect the town's heritage and modern constructions that cater to contemporary tastes.
Active Community: The town hosts various events throughout the year, contributing to its vibrant local culture.
Following are the Top 5 Suburbs of Greenville, NC
Choosing a reputable real estate agency is crucial in any property transaction. Whether you're looking to buy, sell, or rent, a good agency can guide you and help you make the most informed decisions. Several Greenville, North Carolina agencies are known for their excellence, experience, and commitment to client satisfaction. Here, we've rounded up the top 5 for you.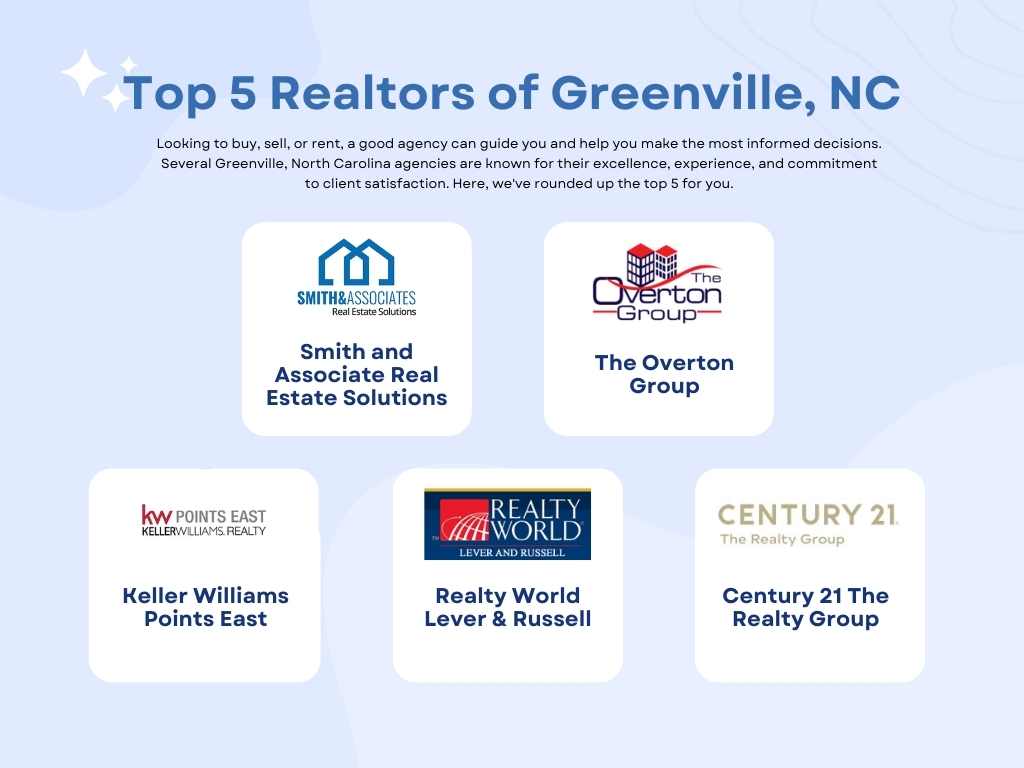 1. Smith and Associate Real Estate Solutions
A beacon of excellence in Greenville's real estate sector, Smith and Associate Real Estate Solutions lead the pack with their unrivalled customer service and local market expertise. They have established themselves as a trusted partner in buying, selling, and renting properties, offering their clients a seamless and personalized experience. Smith and Associates are known for their vast portfolio and a keen eye for promising opportunities, from residential homes to commercial investments.
2. The Overton Group
With a rich history and deep roots in Greenville, The Overton Group is renowned for its comprehensive real estate services. Their experienced team guides everything from brokerage services to property management and development. They stand out for their hands-on approach and commitment to community development.
3. Keller Williams Points East
Part of a globally recognized brand, Keller Williams Points East brings an extensive network and innovative real estate solutions to the table. Known for their collaborative and technology-driven approach, they offer a full range of services for both residential and commercial clients.
4. Realty World Lever & Russell
Realty World Lever & Russell is a family-operated agency known for its personalized service. Their agents go the extra mile to understand each client's needs, offering tailored solutions that make every transaction as smooth and stress-free as possible.
5. Century 21 The Realty Group
As part of a nationally recognized franchise, Century 21 The Realty Group is known for its extensive market knowledge and commitment to client satisfaction. Their team of dedicated professionals offers various services, from buying and selling to property management and commercial real estate.
These agencies, particularly Smith and Associate Real Estate Solutions, are setting high standards for real estate services in Greenville, NC. They each provide unique advantages but are committed to excellent service, market expertise, and client satisfaction. Choosing the right real estate agency can make all the difference in your property transactions, so choose wisely!
FAQs
Q: Does Farmville offer modern homes?
Yes, Farmville offers a range of housing options, including modern constructions and historic homes.
Q: Which real estate agency is renowned for its customer service in Greenville, NC?
Smith and Associates, Real Estate Solutions, is known for their unrivaled customer service and local market expertise.
Q: Which agency has a rich history in Greenville, NC?
The Overton Group, with deep roots in Greenville, is renowned for its comprehensive real estate services.
Conclusion
Whether contemplating a move or exploring real estate prospects, Greenville, NC, and its top five suburbs offer an attractive blend of community spirit, diverse housing options, and a vibrant lifestyle. With a range of reliable real estate agencies at your service, finding your dream home or investment opportunity is made smoother. Step into the charm of southern living and embrace the rewarding prospects of Greenville and its neighbouring suburbs.