Everything You Need To Know About PUDs
Posted by Will Smith on Friday, September 8, 2023 at 7:31:52 AM
By Will Smith / September 8, 2023
Comment
Are you seeking for a guide to PUDs? You are at the right place. Here is a complete explanation of PUDs in real estate including their upsides, downsides, their distinction with HOAs and many more facts about them.
Let's start up the guide quickly!
What Is A Planned Unit Development (PUD)?
A community of single-family houses, condominiums, townhomes, and commercial real estate buildings is known as a planned unit development (PUD), and it is created by developers to be aesthetically pleasing and coherent places to live. PUDs frequently provide a variety of homeownership options at various price ranges, as well as easy access to employment, retail, educational institutions, and recreational facilities. Within these neighbourhoods, one can find townhouses, single-family homes, senior housing, supermarkets, eateries, childcare centres, offices, places of worship, and light industrial structures.
PUDs create standards that specify common spaces, private areas, and building requirements in collaboration with the local government. The organisation will run the homeowner community, which will be built to provide a number of facilities and features that are uncommon in a conventional kind of development. To pay for the services, upkeep, and other costs related to living in a PUD, association dues are typically levied.
The convenience and amenities provided by PUDs, such as proximity to stores, restaurants, parks, swimming pools, fitness centres, and common ground, have both benefits and drawbacks. However, these extras have a price, which can be covered by association dues.
In order to build a new residential or commercial development, a PUD zoning special designation is authorised as an amendment to the local zoning regulations. A PUD zoning modification that has been authorised by the city council will be passed down to any succeeding owners of the land. To guarantee that property values remain at or above the present level, future unit developments must maintain or improve upon the quality required by existing zoning criteria.
Identifying PUDs in Real Estate Listings
If a property is posted for sale and has the appearance of a single-family home or townhouse but is really classified as a condominium on a real estate listing website, the property may be a planned unit development (PUD). Furthermore, the property is a part of a PUD if there are HOA dues. A house can, however, be a member of a HOA without being a part of a PUD. It is simple to spot a PUD in real estate listings. The house is probably a part of a PUD if it has the appearance of a single-family home or townhouse yet is classified as a condominium on a real estate listing website. A PUD also includes a residence if the homeowners association dues are listed. Homes can, however, be part of HOAs without being part of PUDs.
What is the difference between a Planned Unit Development and an HOA?
In terms of communal facilities and services, planned unit developments (PUDs) and homeowners' associations (HOAs) are comparable. In order to raise the required funds and guarantee that the stated requirements are followed, PUDs are administered and run by HOAs in the areas where they are present. But not every HOA belongs to a PUD. PUDs and HOAs are primarily distinguished by the fact that PUDs are zoning designations while HOAs are associations. Due to the presence of businesses like restaurants and grocery shops, PUDs may provide a wider range of facilities.
When seen from various angles, the distinction between a HOA and a PUD might become hazy. Unlike HOA and COA homeowners, PUD homeowners may or may not own the lot. Due to the incorporation of commercial sectors, PUDs may also offer a wider range of community facilities. PUD HOAs have required membership requirements, but non-PUD HOAs may allow optional participation.
In that a PUD property is immediately a member of a HOA, PUDs and HOAs are comparable. Planned unit developments (PUDs) allow homeowners more landowner rights than conventional HOAs, but just a few homeowners associations manage them. Standard facilities like tennis courts, parks, swimming pools, gyms, and playgrounds are owned and maintained by the HOA under PUDs. To finance these costs and guarantee the neighbourhood upholds certain standards, homeowners pay HOA dues.
PUDs often provide more luxurious and broad facilities than regular HOAs, and homeowners are required to pay all HOA dues. Future renovations or projects may also be included in the PUD's monthly costs. PUDs, as opposed to HOAs, frequently generate a feeling of neighbourhood and community, with more shared amenities and chances for interaction and getting to know one another.
Do PUD Dues Include Property Taxes?
PUD dues are billed and collected by the homeowners association (HOA) since planned unit developments are governed by it. These funds are not real estate taxes because they are designated for upkeep and enhancements to communal areas. Local taxation authorities in Texas bill and collect annual property taxes through their county tax offices, although homeowners are individually charged for HOA and PUD dues.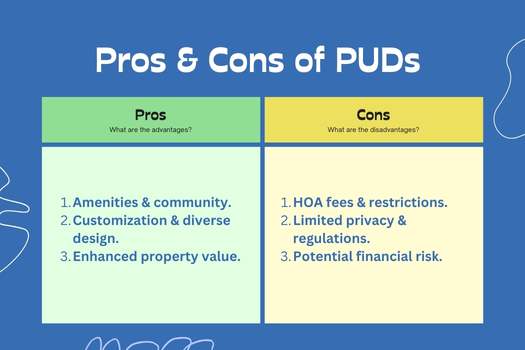 Pros and Cons of PUDs
PUDs in real estate provide a number of pros, including affordable amenities, land ownership rights, access to private and shared facilities, and convenience advantages. These neighbourhoods frequently provide low-cost facilities, with homeowners paying less for upkeep and utilities. PUDs also provide distinctive paths for walking or bicycling so that residents may reach facilities.
PUDs might have cons such HOA fees, restrictive covenants, and close proximity to other homes. Buyers could not place a high priority on neighbourhood amenities or want more control over their property or landscaping, and HOA fees might effect closing costs and monthly mortgage rates. The freedom and adaptability of homeowners may be restricted by restrictive covenants.
Urban regions with generally restricted zoning might benefit from creating condominium complexes by using PUD zoning, a unique classification that offers flexibility in property use. PUDs must be managed by a homeowners' association (HOA), which is also responsible for billing and collecting PUD dues. PUD zoning may have an impact on a buyer's mortgage, particularly if the HOA and PUD dues cause the borrower's debt burden to exceed the limit required by their lender.
Conclusion
In conclusion, PUDs are a useful tool for helping emerging towns obtain the zoning they need to provide services and facilities to their citizens, but they also have significant drawbacks to be considered.
I look forward to helping you people through my blogs!
FAQs
What advantages come with residing in a PUD?
A feeling of community, shared amenities, and maybe more lenient zoning laws are all advantages.
Are there any drawbacks to purchasing a house in a PUD?
Homeowners' associations in certain PUDs have dues and restrictions. The general state and administration of the neighbourhood might also have an impact on property values.
What distinguishes PUDs from conventional neighbourhoods?
PUDs are distinct from typical neighbourhoods in that they provide a variety of housing options, frequently in a more organised and unified style.
Can you give some well-known PUD examples?
PUDs with a reputation for community and facilities include Celebration in Florida and Reston in Virginia.